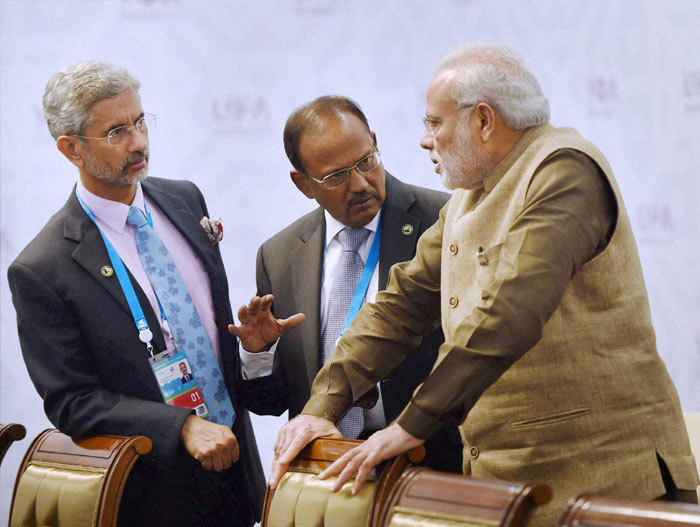 India issued visa to multiple Chinese dissidents like Dolkun Isa, Lu Jinguha, Ray Wong to attend the '
World Uyghur Congress
' in Dharamsala with the Tibetan exiled leader 'HH Dalai Lama' among others. The controversy surrounding the sudden ultra offensive stance by India against China in terms of reversing the policy on internal non-interference evoked nationalist muscularities. But the delight was short-lived with India cancelling the issued visas on technical grounds. This on-and-off relationship evoked strong criticism from the puerile as well as nationalist ranks. Indian media as usual started reading between the lines from the writings on the wall to assimilate their little understanding of the issue by playing rhetorical series to invoke ultra nationalism. But does it really mean that India itself co-opted a 'planned embarrassment'?
Prudential diplomacy requires understanding the weather patterns before the clouds start to rain. The identification of the characteristics of the clouds on the basis of amount of moisture it contains, capability to create 'thunderstorms' and understanding the 'white-wool like structure' requires abandonment of foolish consistencies. India judiciously applied the '
paradox of value
' of Adam Smith in political terms by trading the opportunity of China's veto to Masood Azhar's banishment (being water in Smith's value paradox) with the border agreement with China (being diamond in Smith's value paradox). But how? India cunningly created panic among the Chinese policy makers by signalling a policy shift to accommodate pro-democracy and Uyghur activists from the volatile Xinjiang province under its umbrella. But the sweetness of the deal lies in the fact that they were not allowed to touch the soil, thereby keeping the Chinese to anticipate the possible ramifications of India's future contingency plans like this. Like virginity, a card once played loses its value. Hence, the subtlety dictates keeping the cards closed and keep the foe guessing.
As ends justify the means, the result of such diplomatic overtures can be judged victorious if we happen to secure some legitimate long-term interests vis-à-vis China. A long pending approval to negotiate border agreement, trade disputes and strategic interests should have been secured on the basis of reciprocity of such a generous gesture from our side. The controversy came amidst the visit of our National Security Advisor 'KC Ajit Doval', who is also the plenipotentiary of the Prime Minister on the bilateral negotiations on the border agreement. It is not hard to understand who, how and why dictated such an act of a 'planned embarrassment' and pushed the Ministry of External Affairs in fire-fighting, probably after securing overdue long term interests. A short-term 'perceived embarrassment' may sometimes become inevitable to secure long-term gains. But a cautious approach advises India to keep the Chinese dissidents in close confidence and exploit the opportunities available through them optimistically.Dynamics of diplomacy are surely hard to understand and the usual writings on the wall may not secure legitimate interests due to the ever-changing potentialities of the adversaries and the allies alike. Albert Einstein says 'insanity' is doing one thing again and again and expecting different results every time. Therefore, to quote Mr Doval, "India has a mentality to punch below its weight. We should not punch below our weight or above our weight, but improve our weight and punch proportionately."